How to Get Into Tepper School of Business? A Comprehensive Admission Guide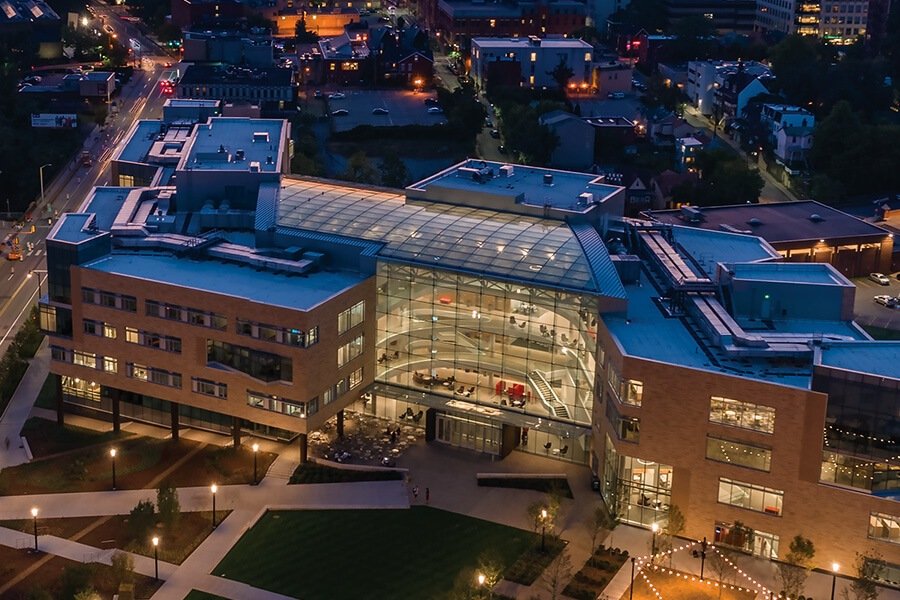 Located in the heart of Carnegie Mellon University's 140-acre campus in Pittsburgh, Pennsylvania, Tepper School of Business has always maintained a forward-looking approach toward business education. The business school is often credited with creating management science way back in 1949. It believes that future business leaders have to be technologically savvy.

CMU Tepper MBA programs stress learning advanced analytics and exploring AI and other advanced technologies to unlock the full potential of data. Besides, students at Carnegie Mellon Tepper are groomed to become a new kind of leader who can cultivate self-awareness, empathy, and the ability to inspire.
Tepper MBA Ranking
Tepper School of Business routinely features in the list of best B-schools by various prominent publications.
Tepper MBA Program Types
CMU Tepper offers four types of MBA programs- full-time, part-time online hybrid, part-time accelerated, and part-time flex MBA.

The academic and support standards are the same across all the Tepper MBA program formats and provide equal opportunities to learn and grow. In fact, US News has ranked Tepper's online hybrid MBA as the best among the US B-schools. However, we will discuss the full-time MBA program in detail as it attracts a significant number of international applicants every year.

The STEM-designated full-time Carnegie Mellon MBA program helps students develop analytical skills and harness the power of insight with emotional intelligence. By the end of the 2-year program, Tepper MBA grads are ready to lead in the emerging business landscape globally.

A range of interdisciplinary opportunities, exposure to emerging technologies, and customized leadership coaching are some of the hallmarks of the full-time Tepper MBA program.
Tepper MBA Class Profile
A B-school's class profile helps you understand what your profile should look like to secure admission into that B-school. Besides, you would also better understand what the Carnegie Mellon MBA admission committee will look for in a prospective student. Following is the Tepper MBA class profile for 2023.
| | |
| --- | --- |
| Particulars | Full-Time MBA Class of 2023 |
| Number of Students | 231 |
| Percentage of International Citizens | 34 |
| Percentage of Women | 21 |
| Average GPA | 3.35 |
| Average GMAT | 691 |
| Average Work Experience (in Years) | 5.4 |
| Percentage of Students With Work Experience Less Than a Year | 1 |
Tepper MBA Acceptance Rate
The MBA acceptance rate for Tepper School of Business is around 27.7%, as per Fortune, which means roughly one in four applicants can have a real shot at the Carnegie Mellon MBA program. However, it is crucial to consider the acceptance rate and the class profile to get a clearer picture of your chances of admission.
CMU Tepper MBA Deadlines
The fall 2023 Tepper MBA application is expected to be live in mid-august. Following are Tepper MBA deadlines for the full-time MBA program. All deadlines end at 11:59 PM Eastern Time (USA).
| | | |
| --- | --- | --- |
| Rounds | Application Deadlines | Decision Notification |
| Round 1 | October 2, 2022 | December 7, 2022 |
| Round 2 | January 5, 2023 | March 8, 2023 |
| Round 3 | March 12, 2023 | May 31, 2023 |
Disclaimer: All the dates are verified from Tepper's official website. However, keep checking the official website for any possible change in dates.
Tepper School of Business Fees
It's vital to know Carnegie Mellon University MBA fees before you plan to enter into its MBA programs. The Tepper School of Business fees can vary as per the type of the program. Following are the approximate full-time MBA fees at Carnegie Mellon Tepper for a year.
| | |
| --- | --- |
| Particulars | Amount (in $) |
| Tuition | 72,800 |
| Fees | 928 |
| Total Fees per Year | 73,728 |
Disclaimer:- The above fee structure is provided to let you know the costs involved. Keep checking the official site for the latest fees. 
CMU Tepper MBA Scholarships
While an MBA from Tepper can help accelerate one's career trajectory, the high costs can deter many people, especially international applicants. However, Tepper School of Business is committed to financially supporting deserving students through various Tepper MBA scholarships.

In most cases, students don't require to opt for CMU Tepper MBA apply for scholarships separately. Instead, they are considered and notified for scholarships at the time of Carnegie Mellon MBA admissions. Some important Tepper MBA scholarships are as follows.
Tepper MBA Scholarship
All full-time and part-time MBA students are automatically considered for this scholarship during admission. No separate application is required. Applicants are considered for the Tepper MBA scholarship based on the overall strength of their application.
Tepper School Forté Scholarship
Tepper School of Business is a part of the select group of schools that partner with Forté, a non-profit organization working toward women's advancement in business. Exceptional female candidates are selected to receive this scholarship during the admission process. Forté fellows also have access to exclusive Forté benefits like leadership conferences, networking, skill-building workshops, and many more.
Tepper School Reaching Out Fellowship
Popularly known as ROMBA (Reaching Out MBA) fellowship, it is given to outstanding students from the LGBTQ community. Applicants seeking this fellowship are asked to submit an essay on a given topic in their Tepper MBA application form.
Additional Scholarships
Students can avail of many other additional scholarships depending on their eligibility. Some of them are listed below.
The Booz & Company Scholars Fund in Business
McGowan Fellows Program
David A. TepperScholarship Fund
James R Swartz Leadership Scholarship
Carnegie Mellon MBA requirements
A four-year bachelor's degree from an accredited US college or university is one of the Carnegie Mellon MBA requirements for admission to the MBA program. An equivalent degree from a foreign country is also accepted. Moreover, the applicant should have studied calculus for a semester during their undergrad or graduation. Read the FAQs if you're from a non-quant background.

Additionally, international students require to submit Graduate Student Financial Statement, including documents like bank statements, sponsorship letters, etc. This exercise is done to verify that the student can afford the cost of an MBA and other expenses.
Tepper MBA Application Process
The CMU Tepper MBA application process is similar to other US MBA admissions. You'll need approximately 30 minutes to complete the application form. It is advisable to keep your essays ready in advance before starting your application form.

Moreover, students are highly recommended to attend the 'Ace the App' miniseries to get admission information before starting their Tepper MBA application form. The miniseries covers the following-
MBA information session
MBA application workshop
Discussion around the admission process
1. Online Resume
Upload a 1-2 page resume providing snapshots of your academic and professional achievements. Ensure to include the start and end date for each position you held. Keep the resume concise.
2. Academic Transcripts
Upload all the copies of the undergraduate and graduate programs that you have ever attended or are currently attending. The transcript should contain the scanned copy of your mark sheet, degrees, certificates, and the date you were awarded the degrees.

If your university has provided grades, include details regarding what those grades mean. Usually, grades are provided on the back of a mark sheet or degree.

Keep the official transcripts ready- they will be required during the verification process after admission.
3. Official Test Score
You're required to submit a valid GMAT score. While there is no minimum requirement, the average Tepper School of Business GMAT score is usually around 700. So, a strong GMAT score can help make a positive impression on the admission committee.
4. English Language Proficiency
Applicants must submit a valid test score from the TOEFL or IELTS exam to prove their English language proficiency. If you appear for the internet-based TOEFL test, you must score 25 in each section. The recommended IELTS exam score is 7.
5. Essays and Career Goals
All Tepper MBA applicants must submit one essay of a maximum of 350-500 words. Visit the business school's website for the latest Tepper MBA essay topic. Additionally, there is an optional essay that you can use to convey some important aspects or information regarding your candidacy. You can use this optional essay to describe your gap years, low work experience, etc.

Re-applicants should use the optional essay to explain how their application and candidacy have improved since their last application.

Finally, there would be a question regarding your post-MBA career goals and an alternative goal as a plan B.
6. Professional Recommendation
Your application should be accompanied by a letter of recommendation. Your recommender should be someone who knows you professionally and can talk about your professional expertise and achievement. You can ask your professional mentor or supervisor to become your recommender.

CMU MBA uses the GMAC Common Letter of Recommendation that saves you and your recommender valuable time by providing a common set of recommendation questions for each participating school.
7. Application Fees
Use your credit card to pay the application fee of $200. However, CMU Tepper allows an application fee waiver if you complete the Chart Your Path Toward Admission.
8. Supporting Document
If you have any supporting documents, upload them directly to your application via the application status page in the application portal. However, it wouldn't be necessary at this stage of the application.
9. Interview
Once you submit the completed application, the admission committee will holistically evaluate your application. If selected, you will receive an invite for the Carnegie Mellon MBA admission interview.

The stress of mastering advanced analytics and cutting-edge technology also reflects on Tepper's employment record. According to the latest data, 96% of Tepper MBA grads received job offers within three months of completing their MBA with a $134,847 mean salary per year.

At Tepper School of Business, you'll learn the necessary skills to contribute to the changing global business landscape. You'll learn how to use human intelligence optimally to unleash the power of data and innovation.
FAQs related to The Carnegie Mellon Tepper MBA
1. What GPA do you need to get into Tepper School of Business?
Unless the b-school grants an applicant a waiver, Carnegie Mellon University MBA requires a 3.2 GPA and 680 GMAT score for MBA.
2. I am from a non-science background. Am I eligible for admission to a Tepper MBA program?
The Carnegie Mellon University MBA programs are open to students from all academic backgrounds. However, if you haven't studied calculus at the college level, you'll have to successfully complete Tepper's Calculus Fundamentals course after joining the program.
3 Does Carnegie accept 3 years degree?
Carnegie School of Business considers applicants with 3 years of an undergraduate degree. However, candidates with additional education beyond their three-year degree have a better chance of admission.
4. Does Tepper MBA have an interview?
Tepper MBA conducts in-person interviews, on-campus interviews, or interviews via Skype with the Carnegie Mellon Tepper Admissions team. Carnegie Mellon MBA interviews focus on behavioral questions related to your teamwork and leadership skills.
5. At what round should international applicants apply in Tepper?
Carnegie Mellon University Mba considers all applications on their merits, and no preferential treatment is given to applicants based on their ethnicity, nationality, race, or application round. So, submit your application with full preparation without worrying about the round. Having said so, all candidates should try their best in the first two rounds itself.
6. Is it mandatory to have prior work experience for pursuing CMU MBA?
CMU Tepper doesn't ask for any mandatory work experience and accepts students with negligible or no work experience. However, it is advised to have at least a few years of work experience to acquire a strong foundation in the core professional areas of business.